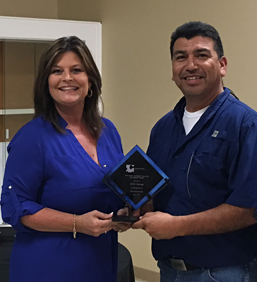 With a continued commitment to the ACE Mentor Program, CCC Group's Florida Regional Office was recently recognized for participating in their 16-week mentor program as well as being a Silver level Sponsor in support of the Polk County Affiliate.
The ACE (Architecture, Construction, Engineering) Mentor Program was founded to introduce high school students to career opportunities in the design and construction industry. Through a unique partnership among industry professionals – architects, engineers, construction managers and other professionals from related organizations – volunteers serve as mentors to high school students in order to introduce them to the A/C/E professions and encourage them to pursue studies and careers in these fields.
ACE Mentors volunteer at least 32 hours of their time, beginning in October and running through February, to work with students after school as they plan, design, and construct a project. They meet weekly with students helping to guide them through the construction process.
The mentorship culminates with a banquet giving the student teams an opportunity to present their final projects to a panel of judges and showcase what they have learned.  In addition, several scholarships were awarded to students who actively participated and successfully submitted scholarship applications.  Monica Dandridge is an active Cabinet Member and Mentor. Art Briones is excited to be a new Mentor for the 2016-2017 ACE Group.  CCC Group is excited to participate in ACE's mission to engage, excite and enlighten our future workforce.
http://www.cccgroupinc.com/wp-content/uploads/2015/08/ACE-CCC_2016.png
282
257
Edna
http://www.cccgroupinc.com/wp-content/uploads/2018/01/CCC-Site-Home-Pg-Logo-CCC-300x138.png
Edna
2016-07-13 09:54:23
2017-02-07 17:29:04
Mentoring Young Minds